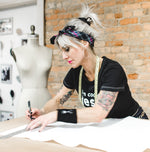 2020's fave beverage: LEMONADE
Can you even begin to believe this year?  When was the last time you stayed home more than two days in a row?  How did you feel when your business shut down or you were furloughed?  
If you're in the beauty industry, maybe you felt like me.  I was scared, angry, and confused.  What would become of me, my beloved career as a hair stylist, the industry, and my state of mind?
I knew immediately I had to stay busy.  Not just waste of time kind of busy but productive kind of busy.  I have the need to produce....to be useful.  I saw the growing concern of safety behind the chair as well as growing plastic waste in the environment. 
Immediately, I took those concerns to my pattern table.  I drafted until I came up with what is now known as the Lux Lab Sanitizable Apron.  
Limited supplies were available to me.  The costs were high and extremely hard not only to find but to have shipped in a timely fashion.  
By the time I posted on instagram.....the demand became overwhelming.  I called a woman who I knew to be a production sewer.  She was looking for work as she had been recently laid off due to Covid.  She was happy for the work because she had the new responsibility of caring for her young grandson.  At the same time, she was helping her own son get back on his feet. 
We worked mostly remote and got our inventory started.  As orders came in and we struggled still to obtain supplies slowing our production, I was able to hire another local sewer who helped me with my waist apron (the one with the chain).  She was also looking for work but limited as she has three children under 3.  Her infant was needing heart surgery and she was in a bind.  
The next issue was fulfilling orders.  How was I going to open my salon, take care of my guests, and ship orders.?  Can you believe I hired my 81 year old mother full time to do this?  Well, I did!  She was so happy to receive a paycheck that she updated her ancient cell phone with a brand new one.  More importantly, she was thrilled to be able to have such an important role not only in helping her (favorite wink wink) daughter but to help hairdressers with staying safe as they got back to work.
You see, I don't tell you all this to brag.  I tell you all of this to let you know how much your purchases have helped our families AND to help our incredible industry.  Your purchases made a difference in so many peoples lives.  I thought you should know what you did!  This is literally such a small part of the journey.  
I have met the most incredible people in the world and they are hairdressers!  All of you who continue to lighten the burdens of your guests every day ... every appointment!  You guys are truly the ones who "lighten up the world!"
XOXO Christine
@lightenuptheworld
Lux Lab for Beauty